I love this quote by Charlotte Mason; there is a description of each statement below.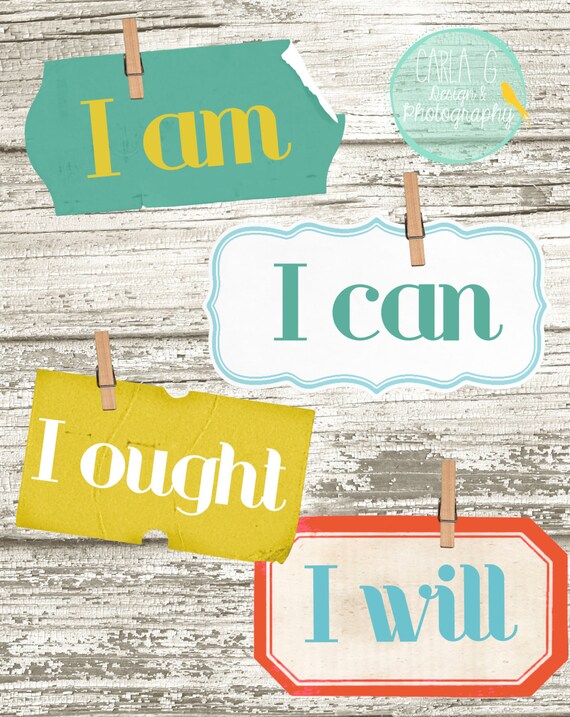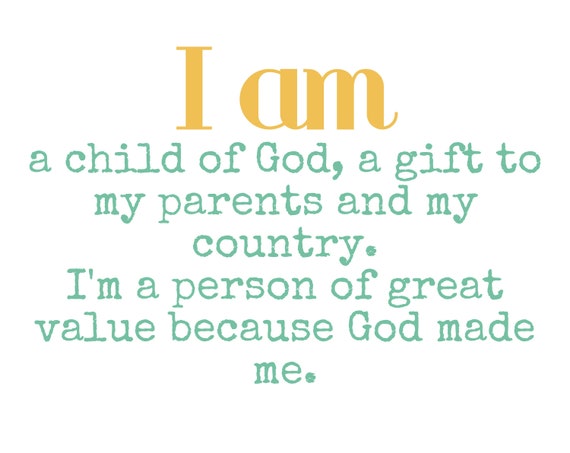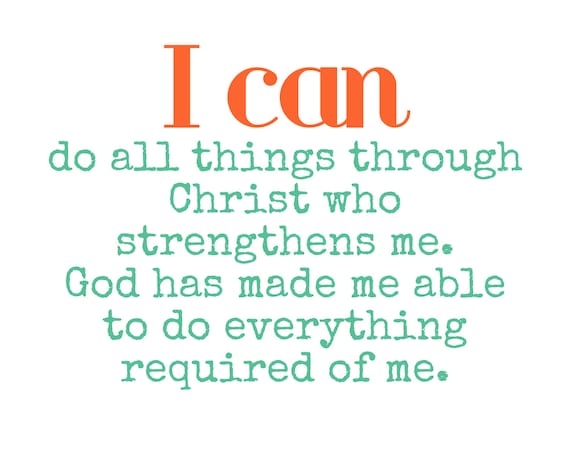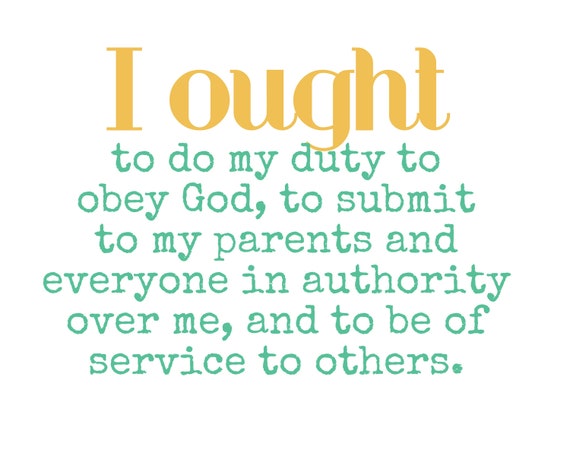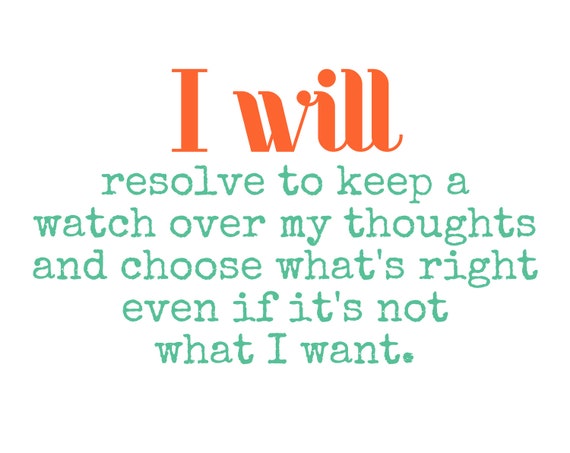 A lot of homeschool moms have asked for this behavior chart...this is also in my Etsy Shop now. I LOVE it, My kids love it, and it works really well. They each have a clothesline clip with their names on it and they start each day on Great Job. Their goal is to work hard and do their best to stay on "Great Job"; alternatively, they can do above and beyond what is expected of them and earn "Amazing".
When they get to Amazing, they get to choose a treat (it's really hard to get to!) like frozen yogurt, or they get to choose a fun activity for us to do like go swimming or go to the beach when we finish our work...sometimes they get a dollar. :)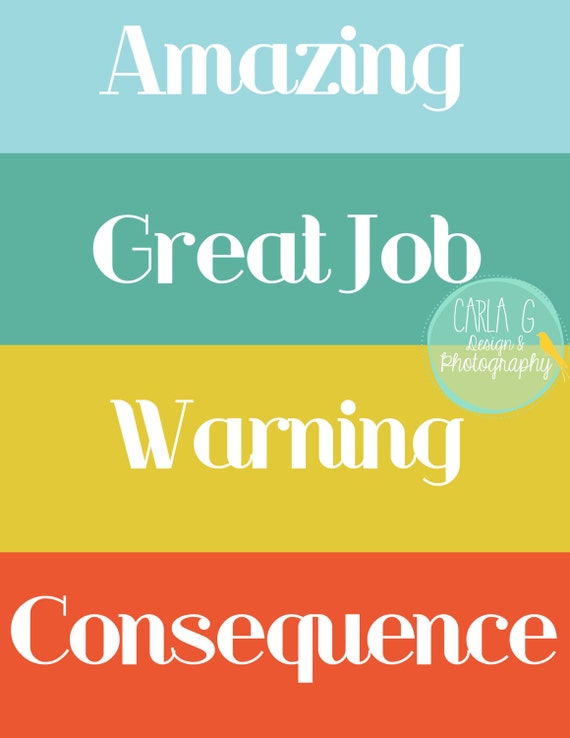 If they end the day on "Great Job", a quarter goes in their money jar. If they are making bad choices during schoolwork, they move down to "Warning" first. I have never had to go to "Consequence" thankfully..."Warning" has always been enough to stop the bad behavior and that has always been my goal. If they get to Consequence, they lose all electronics, and could even lose their legos or Chelsea's dolls (a travesty to both of them) for a day to a week, depending on what it is.
Thankfully they haven't gotten there...hopefully they won't, ever! :)
I love this THINK print. I saw one on Pinterest and knew I had to make one. Having ADD/ADHD, we can be impulsive. Thinking before speaking is not only Biblical and wise, but it's kind and loving to the person you are speaking to. I often refer to it for myself, but I obviously also use it for my kids often enough to make posting the print worth it.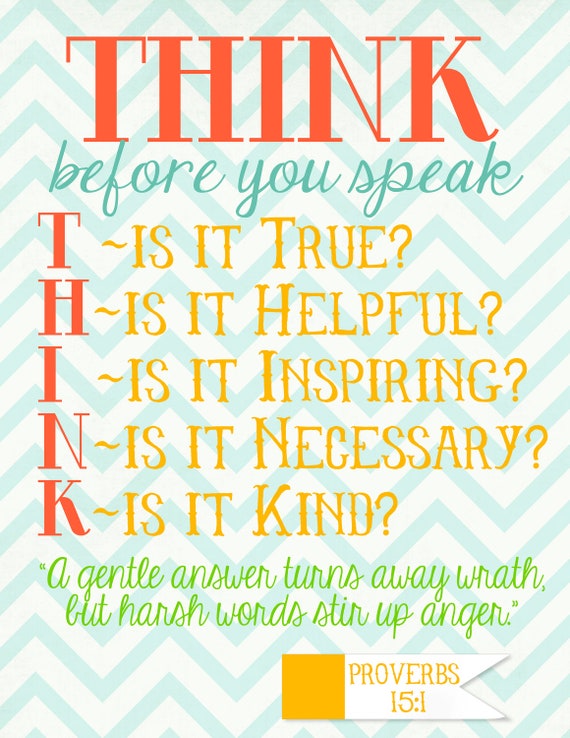 This is one of my favorite verses in the Bible. Every morning is a new day to start fresh...it comes with new mercies, new graces, a new chance, and a new beginning. We can choose to rejoice and be full of joy in the new day we have been given in this life or we can choose to grumble and complain and resent it. I need this gentle reminder to choose to rejoice, especially when we are sick a lot or life simply gets challenging.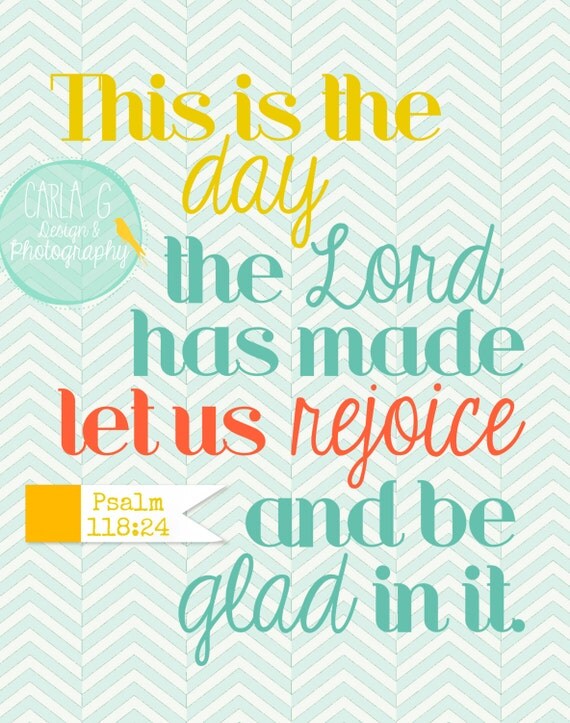 This has always been our theme verse for homeschooling. A sweet blog reader even stitched it for me and we still have it proudly hanging in our homeschool area. I had to make a print that coordinated with the others because I love things to coordinate and to match. I am obsessive like that....it's just my thing.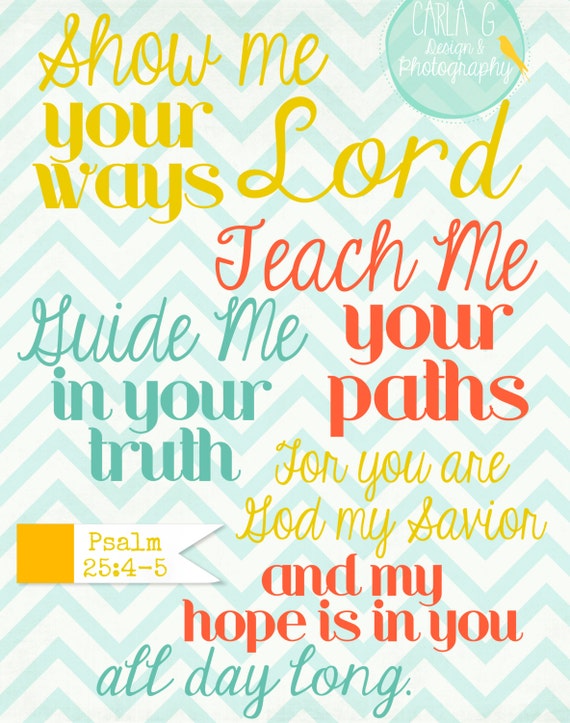 I am currently planning for the next month of school with our brand spankin' new curriculum and getting things organized and ready around my house. Pictures to come within a few days because school starts on Tuesday!
_________________________________
Gavin is all better...mostly. Praise God!


We made it through without going to the hospital even though we could have and were so close to so many times. I am so thankful for our Mastocytosis doctor...he is the ultimate gift from God. He gave me the physician's only phone number at the hospital and his office so I can get a hold of him instantly; he had me email him pictures of Gavin's eye daily so he could monitor the progress and had home health on board to come at a moment's notice to start IV therapy.
He is the greatest....I can't thank the good Lord enough for putting Dr. C. in our life. He is the silver lining in the dark cloud that is this disease.
Did I mention we made it through without home health and the hospital? It was such a HUGE accomplishment, thanks to the diligence of our doctor, and of course, God's great grace and mercy.
His eyes still have a little bit more recovering to go but considering he had cellulitis in the right eye, the herpes simplex type 1 virus in both eyes (obviously NOT the STD kind--the cold sore kind!), and considering that his eye became SO swollen that it looked like a golf ball was under it and that both conditions could have taken away his eyesight...we are blessed to have made it through with his vision intact.
And see? Only scabs remain...the cellulitis and swelling is gone!


He was on an anti-viral for the eye and an antibiotic for the cellulitis and the pneumonia he had in both lungs. It was a LONG two and a half weeks, but it's over....just in time for school to start...but not before we have a little fun in the next few days we have left of our summer vacation....and where exactly do we plan to have said fun?
You guessed it.....
our happy place
....it's heaven on earth and it's calling my name!
Even though the entire vacation was spent with either me or my son being ill, as homeschoolers, we have the added bonus of creating our own "summer vacation" days all year round. We have been known to hit the beach for schoolwork on many a fall and spring day, and we certainly plan to do that (Lord-willing!) this fall.
And I LOVE the beach in the fall...it's still super warm and NO ONE is there....it's the bestest. :)
That's it for now....thanks for praying for us and stay tuned for more homeschooling pictures! :)